recommends ordering a inspection before you buy a commercial vehicle
CARCHEX recommends ordering a Lemon Squad inspection before you buy a used commercial vehicle
Lets face it — commercial vehicles are pushed hard. We're here to make sure your commercial vehicle wasn't pushed past its limits. Our expert inspectors know these machines inside and out and will take extra care to note the industrial workings of your potential new vehicle.
More attention to industrial components
Condition of the body and paint
Presence of scratches, cracks, dents, or rust
Underbody check for any signs of rust or damage
Condition of tires and wheels
Glass exam for cracks or other flaws
Previous accident damage and previous flood damage
Check lights, A/C, gauges, and operation of all other electrical items
Thorough check of interior–including upholstery, mats, headliner, and seat belts
Comprehensive inspection of the motor and transmission
All drive-line components including 4-Wheel and All-Wheel systems
Steering, suspension, Braking components, and Exhaust system
Visual inspection of engine and all other items under the hood
Notation of fluid level, oil leaks, and any missing parts
Examine all specific commercial/industrial components
We'll address any additional areas of concern that you identify (if available)
If possible, assuming the vehicle is street legal and safe weather conditions exist, the entire drive train performance is evaluated with a road test, to be performed by the seller or seller's representative with the inspector as a passenger.
25+ pictures to view with download option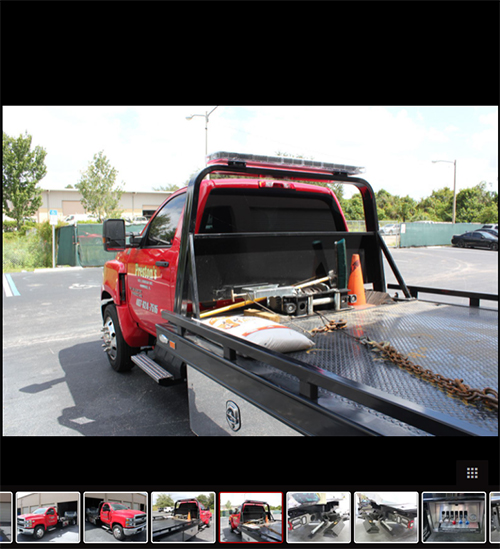 Comprehensive inspection and road test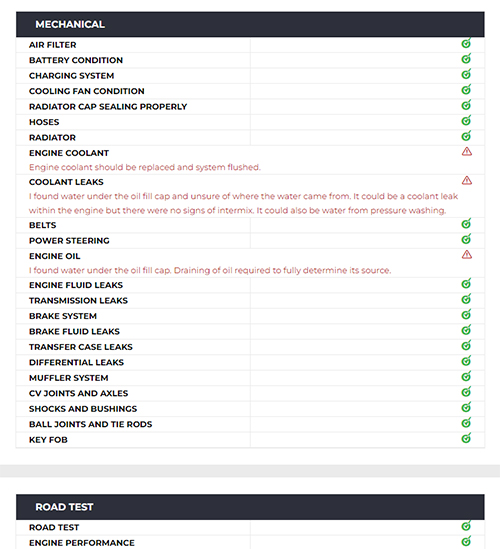 Itemized assessment with detailed notes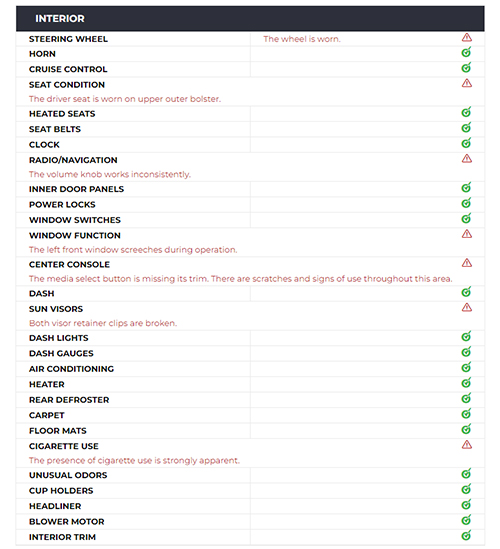 Detailed tire and wheel condition